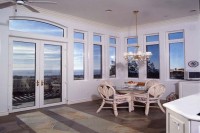 Choosing windows and doors for your home can be confusing when there are so many products on the market. These very important additions to your home function as gateways to the outside world. They also add value, strength and beauty to your property. There are some things to consider before you make your purchase and installation. One of these things is the style. The style you choose depends on your home's design, location and the type of weather conditions in your area.
Your choices in window styles are overwhelming. Each product has its own unique qualities and functions. The windows you install should improve your home in some way. They can be protectors against harsh weather changes and criminal activity, or aesthetic masterpieces that add personality to your home's overall ambiance. Choosing the best type of windows requires some thought and consideration.
Storm Windows are excellent choices if you live in an area that experiences heavy rains and seasonal storms. If the windows you currently have installed are not strong enough to withstand them, these natural occurrences can damage your home's interior with flying debris, water and strong winds. These doors keep bad weather out of your home. Storm windows come in interior and exterior styles. You install exterior windows on the outside of your existing windows. Interior windows go on the inside of your home. Both types protect your home from weather damage, such as hurricanes. Also, consider installing storm doors in your home.
To add a touch of panache to your home, try installing bay and bow windows. Bay windows consist of three separate windows that form an angle. Bow styles have more than four windowpanes that form a unique arc. Both styles work well in homes that require more space without adding an extra room. Bay and bow windows make your home appear larger than it actually is. You can find a variety of styles for your home. These include products with decorative designs and fiberglass panes. Doors
Windows and doors go hand-in-hand. You cannot install one without the other if you want to renovate your interior or exterior. Doors are your home's main protectors. They also come in many types of strong material, including fiberglass, steel and hardwood. Here are several popular door styles for your house.
Wood entry doors are gorgeous additions to your home. They come in a variety of styles that include traditional and classic. The color of the wood used to make the product is rich and inviting. Wood entry doors tend to feature some type of glass; usually stained glass accented with iron or elaborately etched designs. If you have an elegant home, then this type of door works quite well.
In your search for windows and doors, consider installing or replacing your patio doors. Patio doors can lead to your very own private getaway, or to your family's summer barbecues. You slide these doors, rather than open and close them as you would regular entrances. They also come made in different materials, such as fiberglass and vinyl. As with most new styles of windows and doors, patio entrances are often energy-efficient. This means you save money on your heating and cooling bills.
Points to Consider
Although price may be a concern you have when shopping for windows and doors, consider the long-term benefits of your purchase. Storm windows and entrances may cost more than regular products; however, they protect your home better than these products. If a bad storm does occur, your home's interior and furnishings will be protected from major damage that may cost you more money in the end.