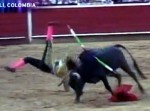 12-year-old bullfighter Michelito Lagravere is out of danger after being gored twice by a bull during a match at the Plaza de Toros in Cali on Sunday.
El Espectador reported that the young bullfighter was gored and trampled in the first moments of his performance. The child then returned and was gored again by a 350 pound bull.

The child's father, who is also a bullfighter, intervened and the boy was treated by medics on the scene at the plaza.
"Thank God he is out of danger. He is hurt, but nothing serious. He had a bad afternoon, but he wants to keep going," the child's mother said.
The injured boy says that he hopes to go back to the ring.